By Seo Results Pro on June, 2023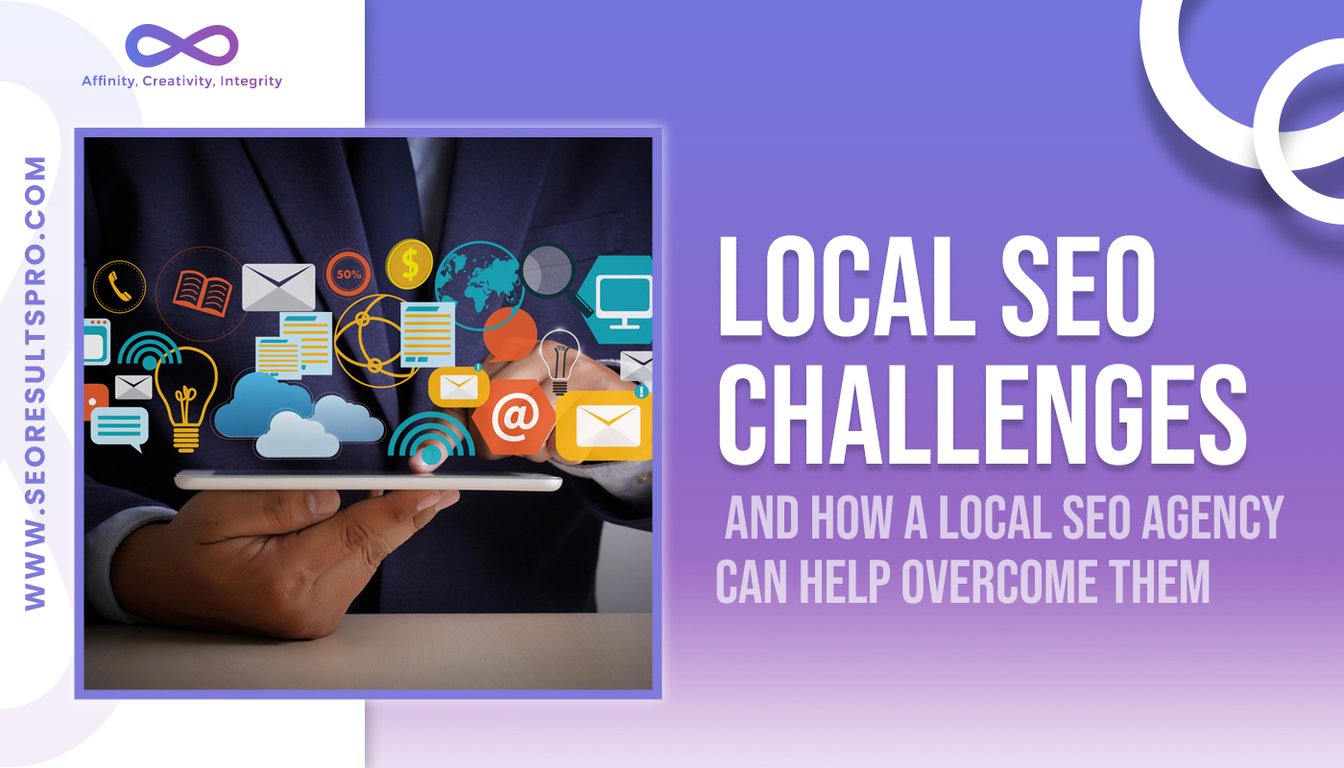 The importance of local SEO cannot be understated. With an increasing number of consumers turning to local search to find businesses nearby, local search engine optimization (SEO) has emerged as an essential strategy for businesses looking to tap into their local markets. However, just like any other digital marketing strategy, local SEO comes with its unique set of challenges. Fortunately, a local SEO agency is equipped with the knowledge and resources to address these challenges. In this comprehensive guide, we'll explore the various challenges associated with local SEO and how partnering with a local SEO agency can pave the way for success.
The Intricacies of Local SEO: Understanding its Unique Challenges
Algorithm Updates: Search engines, particularly Google, frequently update their algorithms to offer the most relevant search results to users. These updates can affect local rankings, sometimes causing a significant drop in visibility for local businesses. Keeping up with these changes requires expertise and vigilance.
Managing Local Citations: Local citations, which are mentions of a business's name, address, and phone number on other websites, play a crucial role in local SEO. However, ensuring consistency and accuracy across these citations is challenging, especially for businesses with multiple locations.
Online Reviews: Reviews are a double-edged sword. While positive reviews can boost a business's local search rankings and reputation, negative reviews can do the opposite. Managing and responding to these reviews is a time-consuming task that requires tact and professionalism.
Mobile Optimization: As a significant number of local searches come from mobile devices, ensuring that a business's website is mobile-friendly is paramount. A site that doesn't render correctly on mobile devices can lose potential customers and rankings.
Local Content Creation: Creating content tailored for a local audience can be challenging. The content must resonate with the local community, be relevant to their needs, and reflect the local culture and events.
Why Partnering with a Local SEO Agency is the Solution
A local SEO agency is not just another digital marketing firm; they are specialists in local search optimization. With a deep understanding of the local search landscape and the challenges it presents, these agencies are best positioned to help businesses navigate the murky waters of local SEO.
Deep Understanding of Local Market Dynamics: A local SEO agency has the advantage of understanding the local market inside out. They are familiar with local events, culture, and consumer behavior, which allows them to tailor strategies that resonate with the local audience.
Expertise in Handling Algorithm Updates: Local SEO agencies stay updated with the latest algorithm changes. They have the expertise to adjust strategies on-the-fly, ensuring that businesses maintain their visibility in local search results despite any algorithmic shifts.
Comprehensive Citation Management: One of the primary tasks of a local SEO agency is to manage and clean up local citations. They have tools and resources at their disposal to ensure that a business's information is consistent and accurate across the web.
Effective Review Management: Managing online reviews requires a delicate balance of acknowledging feedback while protecting the brand's reputation. A local SEO agency can handle this task efficiently, responding to reviews in a timely and professional manner.
Mobile Optimization Expertise: Given the importance of mobile in local search, a local SEO agency ensures that a business's website is optimized for mobile devices. From design tweaks to speed optimization, they take care of every aspect to deliver a seamless mobile experience.
Tailored Local Content: With their finger on the pulse of the local community, a local SEO agency can craft content that speaks directly to the local audience. This ensures better engagement and positions the business as a local authority.
The Extended Value of a Local SEO Agency
When it comes to enhancing a business's local search presence, there's more to the story than just overcoming challenges. A Local SEO agency offers an extended range of value propositions that can transform a company's digital trajectory.
Competitive Edge: In today's saturated market, standing out is crucial. With numerous businesses vying for attention in local searches, having a unique strategy tailored to the local market can give businesses a distinct edge. A local SEO agency, with its in-depth knowledge, can analyze competitors and devise a strategy that positions a business above its competitors.
Time-saving: SEO, especially local SEO, isn't a set-it-and-forget-it strategy. It requires consistent monitoring, updating, and refining. For business owners, managing these intricacies can be time-consuming. By delegating this task to a local SEO agency, businesses can focus on their core operations, ensuring that both ends - operational and marketing - are running smoothly.
Cost-effective: Mistakes in SEO can be expensive. Whether it's penalties from search engines for bad practices or lost opportunities from incorrect citations, the financial implications can be significant. By leveraging the expertise of a local SEO agency, businesses can avoid these pitfalls, ensuring that every dollar invested in local SEO yields the best possible return.
Building Long-Term Relationships: Local SEO isn't just about driving traffic; it's about building relationships with local customers. A local SEO agency can help businesses engage with their local audience more effectively, fostering trust and loyalty. This leads to repeat business and positions the company as a staple in the local community.
Ongoing Training and Education: The digital landscape is ever-evolving. What works today might not work tomorrow. A local SEO agency invests in continuous training and education, ensuring that their strategies are always in line with the latest best practices. This forward-thinking approach ensures that businesses remain ahead of the curve, regardless of how the digital winds shift.
Key Takeaways!
From the ever-changing algorithms of search engines to the intricacies of citation management, the journey of local SEO is filled with potential pitfalls. However, these challenges shouldn't deter businesses from leveraging the immense potential of local SEO.
A local SEO agency emerges as the beacon in this journey, guiding businesses through the challenges and ensuring that their local search strategies are effective and sustainable. These agencies are instrumental in shaping a business's local digital narrative with their expertise, local market knowledge, and commitment to success.
For businesses aiming to carve a niche in their local markets, partnering with a local SEO agency is not just an option but a necessity. The extended value these agencies bring to the table transcends beyond just problem-solving. They become collaborators in a business's success story, driving growth, fostering relationships, and ensuring that the business remains a dominant force in local searches for years to come.
The Answer to Your Local SEO Hurdles
If you're struggling with the complexities of local SEO, you're not alone. But while challenges can seem daunting, there's a pathway to simplified solutions. At SEO Results Pro, we dedicate our expertise to turning these challenges into opportunities. We're not just any agency – we're your trusted partner in ensuring your brand gets the recognition and visibility it deserves locally.
Choose SEO Results Pro and let's embark on this journey together. Every problem has a solution, and our solutions are designed specifically for you.