By Seo Results Pro on, 2023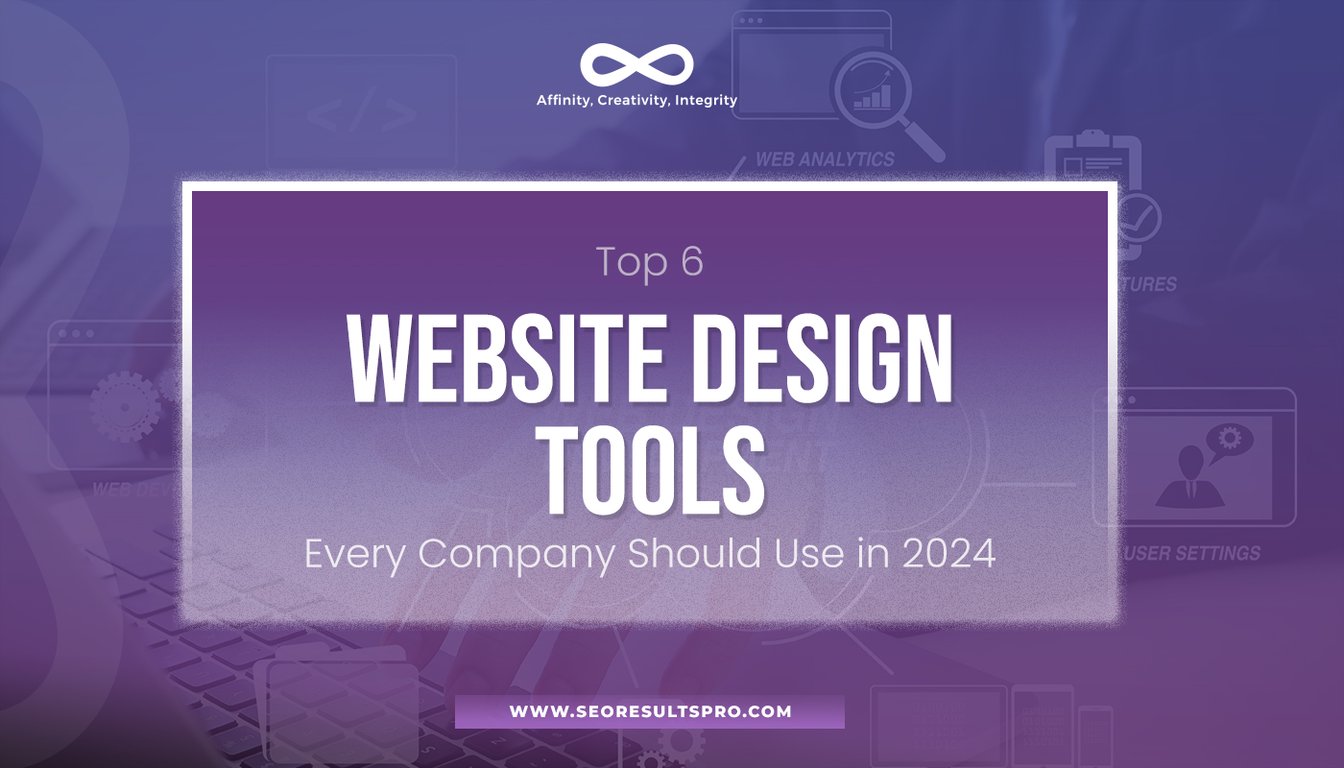 Web design in the digital age is far from being a simple task of choosing pleasing aesthetics and catchy content. It is about innovating, adapting to ever-evolving trends, and providing seamless user experiences that meet diverse client objectives. Consequently, it necessitates the use of cutting-edge tools and software to achieve these targets.
In this regard, a professional website design company that wants to maintain its position in the market and uphold the quality of its website design must keep itself updated with the best tools available in the industry. But with so many tools available in the market, which ones are the essential ones that every website design company should be using in 2024?
To help answer this question, we've gathered the top six web design tools that the best web design company should have in its arsenal. These tools have been selected based on their impact on design quality, efficiency, and the ability to meet clients' requirements. Whether you're a small-scale website design agency or a custom website designer, these tools will help you deliver top-tier website design services to your clients.
1. Adobe XD
Adobe XD, a staple in the design world, continues to be an invaluable tool in 2024. A product of the globally acclaimed Adobe Inc., XD is a vector-based tool that allows seamless design and prototyping of websites and mobile apps.
One of the primary reasons why Adobe XD remains a favorite amongst the best website design companies is its user-friendly interface. It makes the design process smooth, irrespective of the complexity of the project. With features like voice prototyping, responsive resize, and auto-animate, designers can create engaging and interactive prototypes with a high level of detail.
Moreover, Adobe XD's seamless integration with other Adobe Creative Suite applications like Photoshop and Illustrator makes it an incredibly flexible tool, facilitating the design process. The collaborative features allow teams within a professional website design company to work in real-time, ensuring effective communication and faster turnaround times.
2. Webflow
Webflow stands as a powerful tool in the world of website design and development services. This platform allows designers to build professional, custom, and responsive websites without having to write code, making it an ideal tool for both experienced and beginner designers in a website design agency.
Its visual development interface allows for the customization of designs. It also features a built-in CMS that gives clients the freedom to update content after the site has been built. For e-commerce sites, Webflow's integration with major payment gateways simplifies the process of setting up an online store.
In 2024, Webflow continues to dominate the scene because of its functionality, ease of use, and comprehensive features, making it an indispensable tool in every custom website design company's toolkit.
3. Sketch
Sketch is a digital design toolkit that provides a diverse range of functionalities for UI, UX, and visual designers. This Mac-exclusive application has an intuitive interface that allows designers to create responsive and pixel-perfect designs with precision.
Its Symbols feature allows designers to create reusable elements, enhancing consistency across designs and speeding up the design process. Sketch's powerful plugin system also extends its capabilities further, allowing customization to suit specific project needs.
Finally, Sketch's collaboration feature, Sketch Cloud, allows individuals to share, review, and give feedback on designs, fostering effective teamwork and enhancing design quality.
4. Figma
Figma is a cloud-based design tool that is popular among website design companies for its real-time collaboration features. Website designers can work simultaneously on a project, making real-time changes that are visible to all team members, leading to a faster, more efficient design process.
Figma allows designers to design, prototype, and gather feedback all in one place. Its auto-layout feature makes it easier to create responsive designs that adapt to different screen sizes. This feature, along with Figma's robust prototyping tools, makes it an essential tool for delivering professional website design services.
5. Zeplin
Zeplin is an indispensable tool for website design and development agencies in 2024. It focuses on improving the collaboration between designers and developers by bridging the gap between design and coding.
With Zeplin, designers can publish finalized designs from Sketch, Figma, Adobe XD, and Photoshop directly into the platform. Zeplin automatically generates accurate specs, assets, and code snippets from these designs. This automation significantly reduces the chances of misinterpretation or errors when translating designs into code, ensuring a smoother handoff process and, ultimately, a better end product.
6. InVision
InVision is a prototyping tool that stands as a top choice among website design and development agencies. Its robust prototyping capabilities allow designers to transform static designs into interactive and animated prototypes, providing a real-world feel of the final product.
InVision also offers collaboration features, enabling the entire design team to leave comments, share feedback, and track project progress. Moreover, its 'Inspect' feature provides developers with all the necessary design specifications and assets, facilitating a smooth hand-off process between designers and developers in a professional website design company.
Key Messages to Remember!
In an era of rapid digital transformation, having the right tools at your disposal is pivotal for any website design and development company to stay competitive and deliver outstanding results. From initial design and prototyping stages through to final development and project management, the tools we have discussed, including Adobe XD, Webflow, Sketch, Figma, Zeplin, and InVision provide an integrated and comprehensive toolkit that supports a highly efficient and collaborative design and development process.
These tools allow designers and developers to streamline their workflows, foster real-time collaboration, create interactive prototypes, manage code effectively, and ultimately deliver high-quality, user-centric web experiences that align with client objectives. By utilizing these tools, a professional website design company not only enhances its operational efficiency but also increases its capacity to innovate and meet the ever-evolving needs of its clients.
In 2024, the emphasis on user experience, interactive designs, and seamless digital experiences is more pronounced than ever. As such, these tools are not merely optional add-ons but are now fundamental necessities for every website design and development company aiming to carve out a significant niche in the digital landscape.
With the top website design agency, SEO Results Pro, you can position your website at the forefront of design excellence and digital prowess. Our skilled designers are well-versed in the essential tools that any top web design firm must use in 2024 and beyond. Let's transform your website from just visually appealing to a dynamic catalyst for driving traffic and boosting conversions. Elevate your web presence today by partnering with the leading website design agency - SEO Results Pro. Let's get started!"