By Seo Results Pro ,2023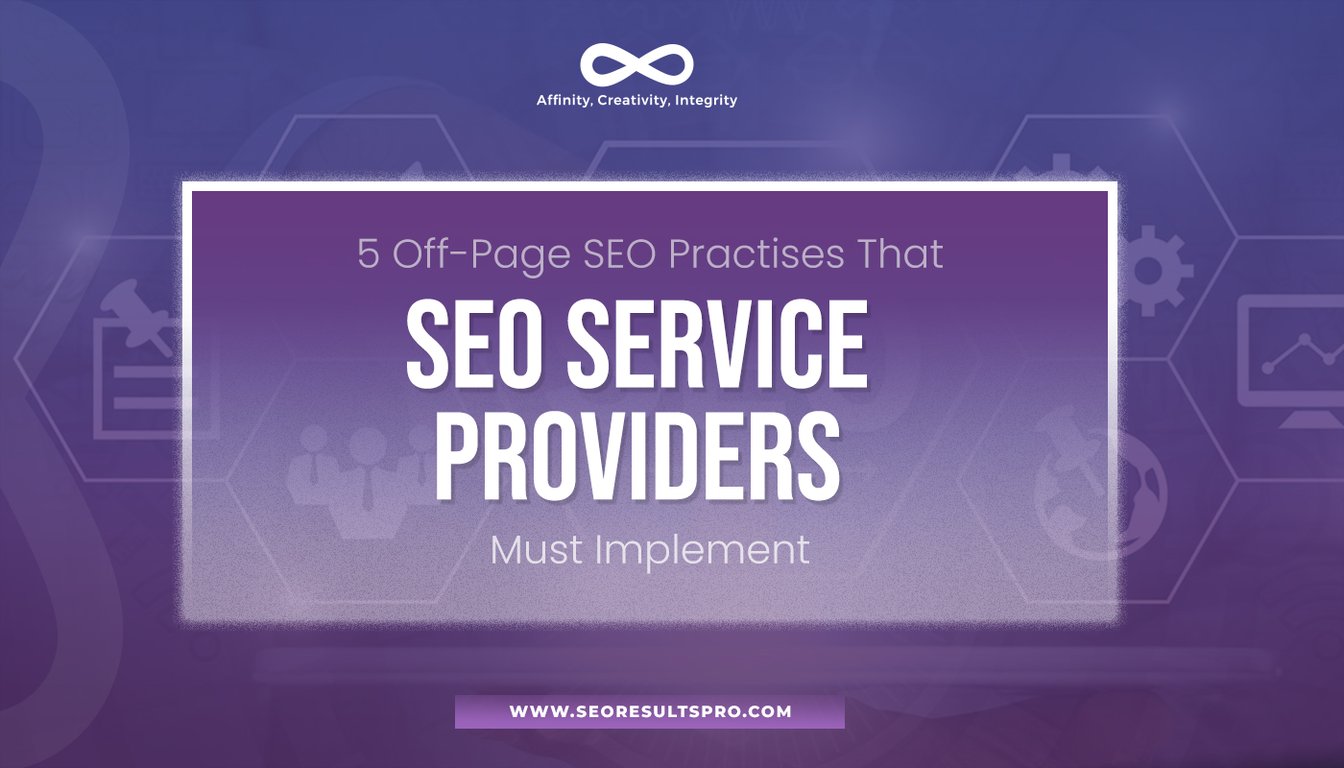 Within the ever-evolving field of search engine optimization, off-page SEO techniques continue to be critical to building a website's authority and visibility. The optimization of external factors—like social media engagement, influencer marketing, online reputation management, backlink building, and online brand mentions—is the main goal of these techniques. In this comprehensive blog post, we will delve into each of these five essential off-page SEO practices that the best SEO service providers should prioritize to drive remarkable results for their clients.
1. Building High-Quality Backlinks
Building high-quality backlinks remains a cornerstone of off-page SEO. SEO service providers should focus on acquiring backlinks from authoritative websites relevant to their client's industries. They can engage in outreach campaigns, guest blogging to secure quality backlinks. These backlinks serve as a vote of confidence and trust for search engines, enhancing the website's authority and improving search engine rankings. However, it is essential to prioritize quality over quantity, as spammy or low-quality backlinks can have a detrimental impact on SEO efforts.
2. Leveraging Social Media Engagement
Social media engagement is not only vital for brand building but also plays a significant role in off-page SEO. SEO services providers should leverage social media platforms to engage with their clients' target audience, promote valuable content, and drive organic traffic. By encouraging social sharing, likes, comments, and followers, the best SEO services providers can signal popularity and relevance to search engines. Additionally, active social media engagement helps build brand awareness, foster customer loyalty, and attract potential customers through social signals, indirectly influencing search engine rankings.
3. Online Reputation Management
Maintaining a positive online reputation is crucial for SEO success. An SEO services provider should actively manage clients' online reputation by monitoring and responding to reviews, addressing customer feedback, and resolving any issues promptly. Positive reviews and testimonials not only build trust with potential customers but also contribute to better search engine rankings. Encouraging satisfied customers to leave positive reviews and ratings on relevant platforms can significantly enhance the online reputation of a business. Moreover, SEO service providers should employ proactive strategies to mitigate any negative sentiment and actively seek ways to improve the overall brand perception online.
4. Influencer Marketing
Influencer marketing has gained significant prominence as an off-page SEO practice in recent years. SEO service providers should collaborate with relevant influencers who have a genuine following and influence within their clients' industry. Influencers' endorsements and recommendations can amplify brand visibility, attract new audiences, and generate quality backlinks. By leveraging the reach and authority of influencers, SEO service providers can tap into their followers' trust and enthusiasm, leading to increased brand exposure and improved search engine rankings. The key lies in identifying the right influencers aligned with the client's niche and creating mutually beneficial partnerships that extend beyond promotional content.
5. Online PR and Brand Mentions
Beyond traditional link building, SEO service providers should also focus on generating online brand mentions. Brand mentions occur when a website or publication mentions its clients' brands without including a direct link. Search engines consider brand mentions as a measure of brand authority and relevance. SEO service providers should actively monitor brand mentions, engage with those who mention their clients' brands, and explore opportunities to turn unlinked mentions into linked mentions. By establishing relationships with journalists, bloggers, and industry experts, SEO service providers can increase the likelihood of their clients being mentioned in relevant publications, leading to improved brand visibility, increased referral traffic, and enhanced search engine rankings.
Rounding It Off: The Closing Thoughts!
Off-page SEO practices continue to be essential for SEO service providers to achieve optimal results. By implementing the five essential off-page SEO practices discussed in this comprehensive blog post, SEO service providers can significantly enhance their client's online presence, authority, and search engine rankings. The dynamic nature of SEO necessitates staying up-to-date with the latest trends, search engine algorithms, and user behaviors to ensure long-term success. By hiring a reputable and knowledgeable SEO service provider, businesses can harness the power of off-page SEO and achieve sustained growth, visibility, and success in the competitive digital landscape of today.
Choose SEO Results Pro for exceptional SEO services that drive results. With our expertise, experience, and dedication to your success, we will take your online presence to new heights.
Contact us now, and let's embark on a journey to SEO success together!