By Seo Results Pro on June, 2023
The internet can be a complex maze for businesses trying to navigate their way to prominence. While a variety of SEO strategies exist to help guide users to your site, link building remains one of the most vital. Link building is not just about the quantity but also about the quality and relevance of the links that direct users to your website. Leading nationwide SEO agencies are well-equipped to design and implement a link-building campaign that can make a substantial impact on your website's visibility and authority. Here's a comprehensive look at what constitutes an effective link-building campaign when led by the best nationwide SEO agency.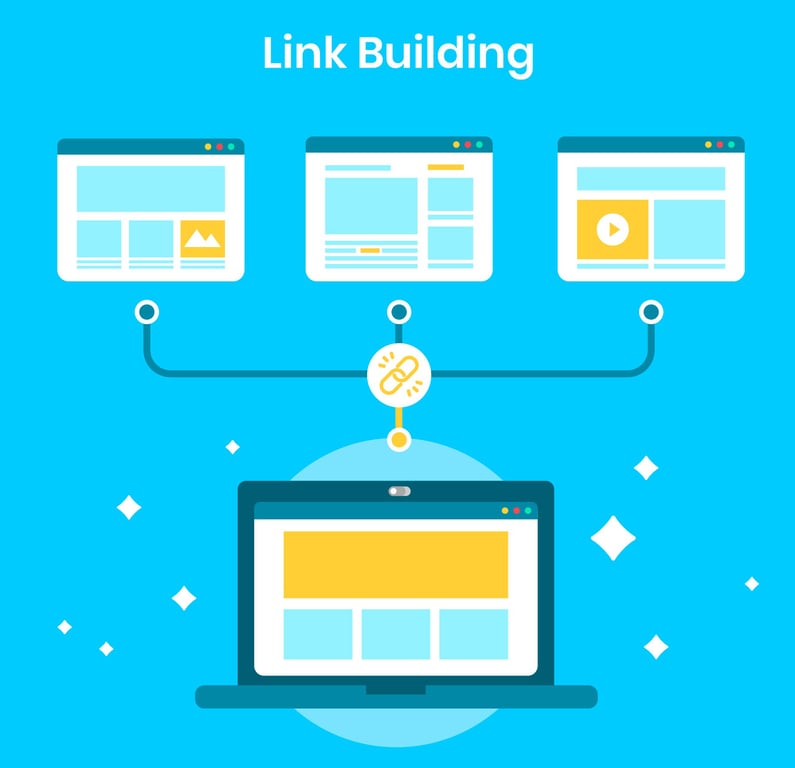 The Foundation: Understanding Business Objectives and KPIs
Before any technical work begins, a conversation about business objectives and Key Performance Indicators (KPIs) sets the stage. While the ultimate aim might be to improve search rankings and increase web traffic, each business has unique needs and target audiences. Recognizing what you hope to achieve through link building allows a nationwide SEO agency to tailor the campaign specifically to meet those objectives.
Comprehensive Analysis: Competitors and Industry
Understanding the competitive landscape is crucial for shaping any SEO strategy, including link building. An agency's team of experts will typically perform a thorough analysis of your competitors' link profiles to identify what types of links are bringing them success. Similarly, evaluating the broader industry trends provides a fuller picture of what kind of content garners attention and the kind of sites where potential high-quality links might be obtained.
Strategy Design: Types of Links and Content
Once a strong understanding of the business landscape is established, a nationwide SEO agency will design a strategy that incorporates different types of links, such as editorial links, guest post links, and internal links, among others. The type of content that would be created and promoted is also part of this phase. From in-depth articles and long-form content to infographics or videos, the type of content chosen will play a significant role in attracting valuable backlinks.
Execution: Creating and Promoting Content
Here comes the part where the rubber meets the road. The content that has been chosen is created, often with meticulous attention to detail, not just to serve the purpose of linking but also to provide value to your audience. Once the content is ready and published, the next step is to promote it. Outreach efforts often involve contacting relevant bloggers, influencers, and industry experts who might find your content beneficial and worth linking to.
Relationship Building: Beyond One-Off Links
An often overlooked aspect of link building is the opportunity it presents for long-term relationship building. When you hire a nationwide SEO agency with years of experience, you also tap into their extensive network of contacts in multiple industries. A one-off link is good, but a mutually beneficial, long-term relationship with a reputable site could be far more valuable in the long run.
Adaptation: Keeping Up with Algorithm Changes
Google's search algorithms are continuously evolving, and a link that was valuable yesterday might not hold the same weight tomorrow. This reality makes it necessary for the link-building campaign to be adaptable. Leading nationwide SEO agencies are vigilant about staying updated with any algorithm changes and will adjust your link-building strategy as needed to continue to reap the benefits.
Cost and ROI: Measuring Success
Implementing a link-building campaign, especially one managed by a top nationwide SEO agency, does require investment. However, the focus should be on the Return on Investment (ROI) rather than just the upfront cost. Effective link-building can improve your site's authority, bring in targeted referral traffic, and ultimately lead to higher conversion rates, making it a worthwhile investment.
The Long Haul: Sustainable Results
SEO, in general, and link building, in particular, are long-term investments. They require ongoing efforts for the results to be sustainable. With a nationwide SEO agency at the helm of your link-building campaign, you can expect a long-term strategy that aims for lasting impact rather than quick, temporary boosts.
Improve Your Link Building Strategy with SEO Results Pro
Crafting an effective link-building campaign requires more than just random backlinks; it demands precision, relevance, and a deep understanding of your industry. At SEO Results Pro, we pride ourselves on being a nationwide SEO agency that goes beyond the ordinary. Our link-building strategies are tailored to your specific industry and target audience. We identify high-authority websites that align with your niche, ensuring that each link we build contributes to your website's authority and credibility.
Our focus is not just on quantity but on quality links that drive real, organic traffic to your site. When you partner with SEO Results Pro, you're not just investing in a link-building campaign; you're investing in a strategic approach that brings tangible results. Take your link-building game to the next level – choose SEO Results Pro.