By Seo Results Pro on June, 2023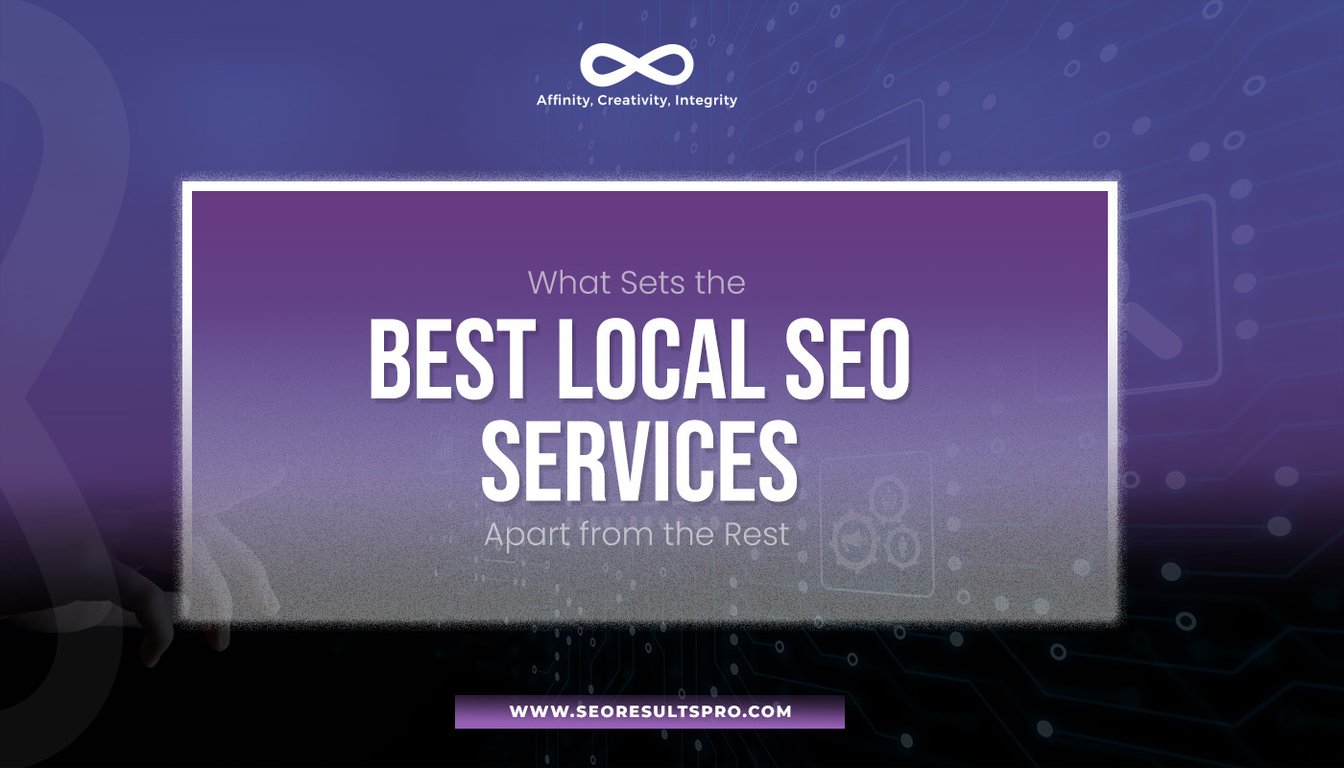 While global SEO is about improving visibility on an international scale, local SEO focuses on increasing online visibility for local consumers. Whether you're a local business owner or an entrepreneur, selecting the best local SEO services is vital to ensure you're seen by your target audience. But what truly differentiates the best from the rest? Let's delve into it.
Qualities of the Best Local SEO Services
Local Knowledge and Expertise: The best local SEO services understand the nuances of the local market. They know the community, its culture, and the competition. This understanding allows them to tailor their strategies to the unique characteristics of the area.
Use of Advanced Tools: While many SEO agencies have access to standard tools, the best ones invest in premium, sophisticated tools that provide deeper insights. They don't just rely on the basics; they dig deeper.
Regular Reporting and Transparency: Accountability is crucial. The top services offer regular, comprehensible reports that highlight strategies, performance metrics, and results. This transparency ensures clients understand and trust the process.
Adaptive and Up-to-date Techniques: SEO is not a static industry. The best local SEO services are those that stay updated with the ever-evolving search engine algorithms, making necessary adjustments to their strategies as and when required.
Strong Online Reviews and Testimonials: A reputable local SEO agency will have positive reviews and testimonials from satisfied clients. These reviews often attest to the effectiveness and professionalism of the service provider.
Navigating the digital space as a local business is no small feat. With the constant changes in algorithms, shifts in user behavior, and evolving online trends, the need for high-quality local SEO cannot be overstated. Given its importance, it's necessary to understand in greater depth how the best local SEO services actually operate and why they're indispensable for businesses today.
Customized Strategy for Every Client
Thorough Initial Analysis: The foundation of effective SEO starts with understanding the client. The best local SEO services providers initiate their partnership by conducting a comprehensive analysis of the client's current online presence, target audience, competition, and local market dynamics. They don't use a one-size-fits-all approach but rather create a roadmap tailored for each business.
Keyword Research with Local Intent: Unlike generic SEO, local SEO revolves around keywords with geographical elements. The best local SEO services prioritize keywords that local consumers would use, ensuring that businesses appear in local searches relevant to their offerings.
Prioritizing Local Citations and Backlinks
Consistency in NAP (Name, Address, Phone Number): Accurate and consistent business details across various online directories and platforms are paramount. The top local SEO agencies ensure that the NAP is consistent across the board, as inconsistencies can lead to lowered search rankings.
Building Quality Local Backlinks: Just as with global SEO, backlinks are vital in local SEO. However, the best services focus on gaining backlinks from reputable local sources. These local backlinks not only boost credibility but also signal to search engines about the business's relevance to the local community.
Engaging Local Content Creation
Local Relevance: The best local SEO services emphasize content that speaks to the local audience. This could be articles about local events, news, or topics pertinent to the community. Such content resonates more with local consumers and boosts engagement.
Utilizing Local Schema Markup: Schema markup is a form of microdata added to a webpage, creating a rich snippet that appears in search results. The top services utilize local schema markup, ensuring search engines get a clearer understanding of the business's local relevance.
Prioritizing Google Business Profile
Optimized Listings: Google Business Profile allows businesses to manage their online presence. An optimized Google Business Profile, complete with accurate information, reviews, and relevant images, is a game-changer in local search results. The best agencies ensure their clients' profiles are fully optimized and regularly updated.
Encouraging Authentic Reviews: Reviews play a significant role in local SEO. The best local SEO services help businesses in crafting strategies to obtain genuine reviews from customers. They also guide businesses on how to respond to reviews, be it positive or negative, in a way that showcases the business's commitment to customer satisfaction.
Preparing for Voice Search Revolution
With the rise of voice-activated assistants like Siri, Alexa, and Google Assistant, voice searches are becoming increasingly common. These searches are inherently more localized, as people often ask for nearby services or recommendations. The best local SEO services are already ahead of the curve, optimizing for this next wave of search behavior.
The Importance of Choosing the Best Local SEO Services
Choosing the right local SEO service can be the difference between a thriving business and one that's lost in the digital noise. The best local SEO services not only enhance your online visibility but also help:
● Improve your business' reputation in the local market.
● Increase organic traffic to your website, leading to potential conversions.
● Build trust with your target audience.
Conclusion: The Ever-evolving Local SEO Landscape
The intricacies of local SEO are vast and ever-evolving. It's not just about stuffing content with local keywords but about crafting a holistic strategy that positions a business at the forefront of local searches. This requires expertise, dedication, and a deep understanding of both the local market and the digital world.
For local businesses looking to stand out, partnering with the best local SEO services is more than just a smart choice; it's a necessity. At SEO Results Pro , our team offers bespoke solutions that focus not just on visibility but on impact. It's a digital world where being different makes all the difference. Don't let your brand get lost in the sea of sameness. Make a choice that defines your digital identity. Opt for SEO Results Pro, where we don't just set benchmarks – we redefine them.