By Seo Results Pro on June, 2023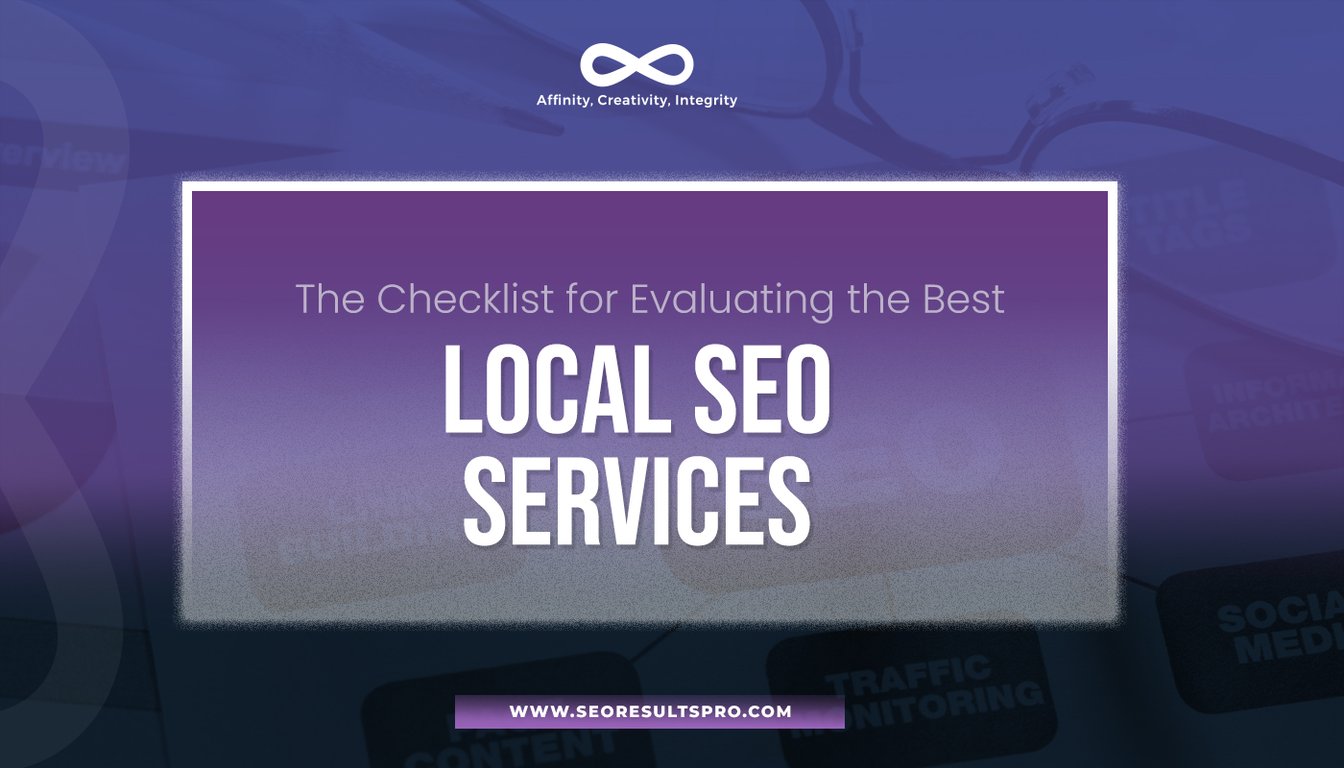 Navigating the ever-changing world of SEO can be challenging, especially when it comes to local search engine optimization. Local businesses aiming to gain visibility and authority in their geographic areas must partner with the right experts to succeed in the digital realm. However, with numerous agencies and consultants claiming to offer "Local SEO Services", how do you truly evaluate which service is right for your business? This comprehensive guide will take you through a step-by-step checklist to ensure you're making the best choice.
Understanding the Basics of the Best Local SEO Services
Before diving into the checklist, it's essential to have a fundamental understanding of what local SEO entails. At its core, local SEO focuses on optimizing a website to be found in local search results. This means not only appearing when someone types in your business name but also when they search for services or products you offer in conjunction with a local identifier, such as "hairdresser in Chicago" or "best coffee shop near me".
1. Research and Reputation
The journey to finding the best local SEO services should start with research. Begin by looking into the track records of potential agencies or consultants. Check out their reviews, case studies, and testimonials. Genuine feedback from past clients can offer invaluable insights into the effectiveness and reliability of the services provided.
2. In-depth Knowledge of Local SEO Factors
The best local SEO services providers will have a deep understanding of all the factors that influence local search rankings. This includes on-page elements like title tags, meta descriptions, and local keyword optimization, as well as off-page factors like backlinks, local citations, and optimization of Google Business Profile.
3. Customized Strategy Development
No two businesses are the same, and a "one-size-fits-all" approach doesn't apply in the world of local SEO. The best agencies will take the time to understand your unique business needs, industry, competitors, and target audience. They'll then craft a customized strategy rather than relying on generic templates.
4. Transparent Reporting and Communication
Communication is key in any partnership. Local SEO services providers will ensure regular reporting on campaign progress, metrics, and results. This should be in understandable terms, highlighting the successes and areas of improvement. Regular meetings or check-ins also indicate that the agency values client relationships.
5. Comprehensive On-Site and Off-Site Services
For a holistic approach, the best local SEO services should provide both on-site and off-site optimization. On-site refers to changes made directly on your website, while off-site involves strategies to build your website's authority through external sources. Both are crucial for a successful local SEO campaign.
6. A Focus on User Experience
While keywords and backlinks are essential, user experience plays a pivotal role in search rankings. The best local SEO services will understand the importance of a fast-loading website, mobile optimization, and user-friendly navigation. They'll work on creating an optimal user journey, keeping both the search engine and your audience in mind.
7. Ethical and White-Hat Techniques
It's crucial to ensure that your chosen service adheres to ethical SEO practices. Black-hat techniques may offer quick results, but they can lead to penalties and long-term damage to your online reputation. The best services will prioritize white-hat methods, even if they take longer to yield results.
The Significance of Local SEO in the Digital Age
As we continue our deep dive into evaluating the best local SEO services, it becomes pertinent to understand the significance of local SEO in today's digital landscape. With the increasing reliance on mobile devices and location-based searches, local SEO has never been more crucial. It's not just about getting your name out there; it's about ensuring your business is visible when and where potential customers are looking for your products or services.
How to Start Your Search
Now that we've discussed the various facets to consider when evaluating local SEO services, let's discuss how to start your search.
1. Referrals and Recommendations: One of the most effective ways to find reputable services is through referrals. Ask other business owners, especially those in your industry, about their experiences and recommendations.
2. Industry Forums and Communities: Online communities, industry forums, and groups can be a treasure trove of insights. Here, you can find discussions about various agencies, their pros and cons, and personal experiences.
3. Online Reviews: While we touched upon this earlier, it's worth reiterating. Platforms like Google My Business, Yelp, and industry-specific review sites can provide a snapshot of an agency's reputation.
4. Initial Consultation: Once you've shortlisted a few potential services, reach out for an initial consultation. This meeting will give you a sense of their professionalism, expertise, and whether they're a good fit for your business.
The Road to Local SEO Success
When you've successfully navigated the checklist and chosen the best local SEO services for your business, it's time to embark on the road to local SEO success. Here's what you can expect as you begin your journey:
1. Initial Assessment and Audit
Your chosen local SEO agency will kick off the process with a thorough assessment and audit of your current online presence. This includes an analysis of your website, keyword research, competitor analysis, and an evaluation of your Google My Business listing. This initial step provides a baseline and helps identify areas for improvement.
2. Customized Strategy Development
Following the assessment, the best local SEO services will develop a customized strategy tailored to your business's unique needs and goals. This strategy will outline the specific actions to be taken, the timeline, and the expected outcomes.
3. On-Site Optimization
A critical aspect of local SEO is optimizing your website to ensure it's search engine and user-friendly. This involves making changes to elements such as title tags, meta descriptions, header tags, and ensuring that your website is mobile-responsive and loads quickly. The agency will also focus on creating high-quality, locally relevant content that engages your audience.
4. Google Business Profile Optimization
Your Google Business Profile is a cornerstone of local SEO. The best local SEO services will optimize your Google Business Profile, ensuring that it's complete, accurate, and up-to-date. This includes verifying your business location, adding high-quality photos, and encouraging reviews from satisfied customers.
5. Local Citations and Backlink Building
Local citations and backlinks from reputable sources are crucial for building authority in local search. The agency will work on securing citations on local directories, industry-specific websites, and other authoritative platforms. They'll also engage in white-hat link-building strategies to enhance your website's credibility.
Final Thoughts
Evaluating and selecting the best local SEO services is a significant decision, one that can shape your online presence and influence your local market standing. By considering the aspects discussed above, you can make an informed choice, ensuring that your local SEO strategy is in competent hands.
As you evaluate and list the best local SEO services, remember the importance of a results-driven strategy. SEO Results Pro offers more than just a service. Our team goes beyond ticking off a checklist; we immerse ourselves in understanding your brand, goals, and vision. Equipped with this understanding, our strategies are tailored to ensure that your online presence isn't just strong but also aligned with your business's long-term objectives.