By Seo Results Pro on June, 2023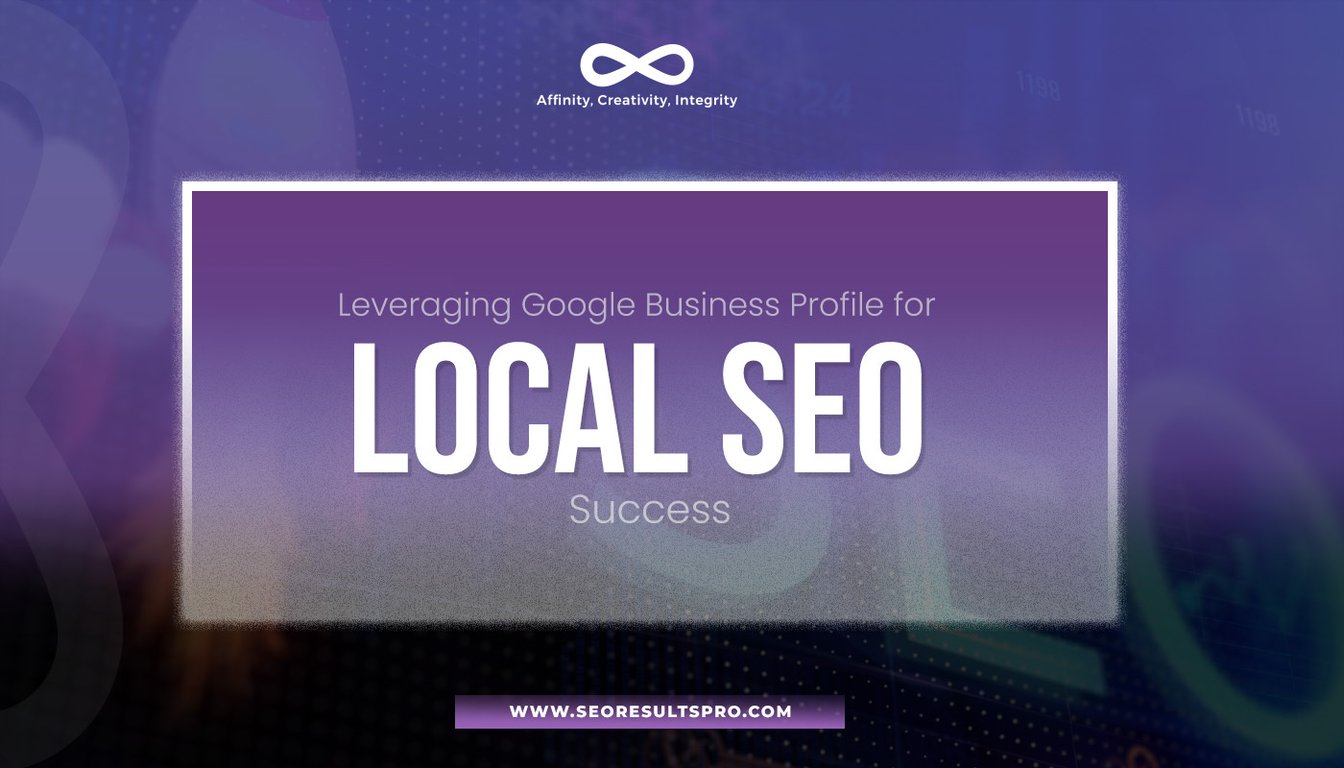 Businesses consistently seek strategies to stay ahead and visible to their local audiences. Local SEO is a tailored practice to help businesses increase their local visibility on search engines. One pivotal platform in this endeavor is Google Business Profile. This article dives deep into how Google Business Profile can be harnessed for maximizing Local SEO success.
Understanding the Basics of Local SEO
Local SEO, or Local Search Engine Optimization, refers to the practice of optimizing a business's online presence to attract more business from relevant local searches on Google and other search engines. But what makes Local SEO distinct?
Firstly, while general SEO focuses on ranking in searches across the country or globally, Local SEO focuses on appearing in searches specific to a location – be it a city, district, or even a neighborhood. This is crucial for brick-and-mortar businesses that operate in particular locales. Consider a scenario: You're traveling in a new city and searching for "best coffee shops near me." The cafes that pop up at the top owe their spot to effective Local SEO.
Moreover, with the rise of mobile and voice search, local searches are more frequent than ever, making Local SEO a necessity for businesses to capitalize on nearby customers.
Google Business Profile: An Overview
Google Business Profile is a powerful platform offered by Google that allows business owners to manage their online presence across the search engine and its expanding portfolio, like Google Maps.
At the heart of its relationship with Local SEO, Google Business Profile serves as the foundation. When potential customers search locally, Google prefers businesses with a verified and well-optimized GMB profile. This could mean the difference between showing up in a local three-pack or being buried under search results pages.
Setting Up Your Google Business Profile
For those unacquainted with GMB, setting up a profile is a relatively simple process:
Claiming Your Business: Start by visiting the Google Business Profile website and clicking "Manage Now." Search for your business, and you can claim it if it appears. If not, you'll be prompted to add it.
Verification: Google will want to confirm that your business is genuine and where you say it is. This is often done by sending a postcard with a verification code to your business address.
Profile Optimization: Once verified, it's time to spruce up your profile. Ensure you select the most accurate category for your business. This helps Google determine which searches your business is relevant for.
Photos and Visuals: Add high-quality images of your establishment, products, or relevant imagery. Remember, a picture is worth a thousand words!
Ensure NAP Consistency: Your Name, Address, and Phone Number (NAP) should be consistent across all platforms. Discrepancies can confuse Google and lead to a drop in local rankings
Leveraging Reviews for Local SEO Success
Reviews can be a game-changer in the world of Local SEO. They don't just reflect the quality of your service or product but also impact your rankings in local search.
To make the most of this:
Encourage Reviews: Whether through signage at your physical location, follow-up emails, or gentle prompts on social media, remind happy customers to leave a review.
Engage with the Reviews: Thank your customers for positive feedback and tactfully address the negative ones. This demonstrates that you value customer feedback, which can be a magnet for new customers.
Utilizing Google Business Profiles Posts for Enhanced Engagement
Think of Google Business Profile posts as mini-advertisements or announcements that show up in your Google Business Profile on the search results page. They're a fantastic way to communicate directly with search users.
Here's how to leverage them:
Types of Posts: Google Business Profile offers different post types – from highlighting special offers to showcasing new products, announcing events, or sharing updates. Choose what's most relevant to your audience.
Crafting Engaging Posts: Keep your posts crisp and engaging. Add high-quality images and compelling CTAs, and ensure the content provides value or solves a problem for the user.
Harnessing Google Business Profile for Local SEO success declares your presence, ensures your audience finds you easily and enables engagement in the bustling digital marketplace. As we move on, there are even more strategies and features within Google Business Profile that can enhance your local search standing. But for now, start with these steps, and you'll be on a surefire path to local prominence.
Regularly Update and Refresh Your Google Business Profile Listing
A stale or outdated listing doesn't serve anyone, least of all your potential customers. Regularly updating your Google Business Profile can have several benefits:
Seasonal Updates: Got a holiday sale, or perhaps new items in stock for a particular season? Update your listing to reflect these changes.
Business Changes: If there are alterations in your operation hours, contact details, or even temporary closures, ensure your Google Business Profile reflects the current status.
Engagement Boost: Regularly adding new photos, posts, or events can keep your audience engaged and coming back for more.
The Mobile Revolution and its Impact on Google Business Profile
It's no secret that mobile searches have skyrocketed in the past decade. What does this mean for your Google Business Profile listing?
Mobile Search Trends:
"Near Me" Searches: One of the most significant trends in mobile search behavior is the surge in "near me" queries. This emphasizes the need for businesses to be optimized for local search, ensuring they appear when potential customers are in their vicinity.
Direct Actions from Search: Mobile users are more likely to take direct actions from search results – be it calling the business, getting directions, or visiting a website. A well-optimized Google Business Profile can facilitate these actions seamlessly.
Optimizing for Mobile:
User Experience: Ensure that when users click through to your website from your Google Business Profile, they land on a mobile-optimized site. The faster and more user-friendly your site, the better the chances of conversion.
Utilize Messaging: Google Business Profile offers a messaging feature, enabling businesses to directly chat with customers who find their listing. Given the instant nature of mobile communication, this feature can be invaluable in addressing queries or securing leads.
Final Thoughts
In the labyrinth of digital marketing strategies, Google Business Profile shines as a beacon for local businesses. Its multifaceted nature, integrating elements of social engagement, customer feedback, and direct insights, makes it more than just a business listing.
As mobile searches continue to dominate and local intent becomes even more pronounced, the symbiotic relationship between Local SEO and Google Business Profile will only strengthen. For businesses, large or small, now is the time to dive deep, harness the myriad features of Google Business Profile, and solidify their footprint in the local digital landscape.
Remember, in the realm of Local SEO, it's not just about being seen but being found at the right place and the right time. And with Google Business Profile, you have the perfect compass to guide you.
Experience the Full Potential of Google Business Profile with SEO Results Pro
Navigating the intricacies of Google Business Profile can be the defining factor between a business that's simply present and one that thrives in local searches. But making the most out of Google Business Profile demands more than a basic setup. Continuous optimization, active engagement, and strategic enhancements are required to stay ahead of the competition.
At SEO Results Pro, we specialize in maximizing the impact of Google Business Profile for businesses like yours. Our tailored strategies ensure that your business isn't just found but is the preferred choice for local customers. Explore the untapped potential of your Google Business Profile listing with a dedicated team that understands its ins and outs. With SEO Results Pro, let's turn your Google Business Profile into a powerhouse of local SEO.