By Seo Results Pro on, 2023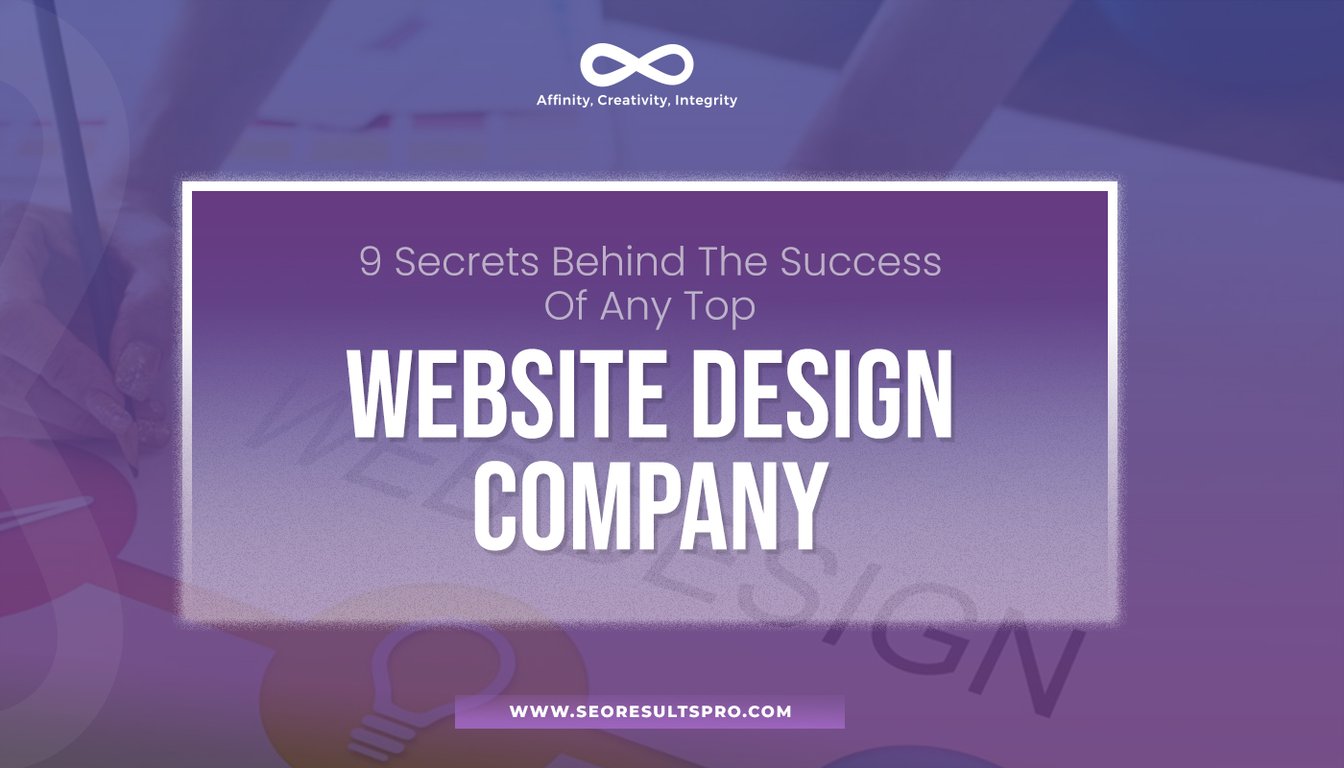 In the digital age, where having an online presence is critical, choosing the right website design company is a pivotal decision. This blog will delve into the nine secrets distinguishing any successful website design company from the rest. These are elements that your chosen website design and development company should possess to guarantee the creation of a website that does more than just look good.
1. Ability To Deliver Comprehensive Website Design And Development Services
The first secret behind the success of a top website design company is its ability to provide comprehensive website design and development services. A website is an intricate blend of design and technical aspects, and you need a company that can deliver on both ends of the spectrum.
In terms of design, a top web design agency goes beyond creating a visually appealing website. They understand the importance of a user-friendly interface and navigation, creating an intuitive and engaging user experience. A website is often the first point of interaction between a business and its potential customers, and a well-designed website can leave a lasting impression.
On the technical side, the best website design companies have a deep understanding of various web technologies like HTML, CSS, JavaScript, and various content management systems. They're well-versed in implementing responsive design, ensuring your website works seamlessly on different devices.
2. Customization: The Mark Of A Professional Website Design Company
A professional web design company knows that each business is unique, with its specific audience, goals, and brand identity. This understanding leads to the second secret of their success: the ability to provide custom website design services. A custom website is designed specifically to cater to your business's unique needs and objectives.
Custom website design involves understanding the client's business model, researching their industry and competition, identifying the target audience, and creating a website that speaks directly to the audience. It's about creating a unique online presence that stands out from the competition and aligns with the client's brand image.
3. Client-centric Approach
The third secret behind the success of any leading website design firm is a client-centric approach. The best web design agency focuses not only on delivering a design but also on creating an experience for the client.
This process involves open communication, transparency, and active collaboration with the client throughout the project. It means listening to the client's needs and expectations, offering professional advice, and ultimately delivering a solution that meets or exceeds those expectations.
In a client-centric approach, the web design services are tailored to the client's business needs, objectives, and budget. The company works closely with the client at every stage of the project, ensuring the client is involved in the decision-making process. This approach results in a website that truly reflects the client's vision and achieves their business goals.
4. Expertise in Diverse Industries
A key secret behind a top website design company is its expertise across diverse industries. From finance to fashion, healthcare to hospitality, every industry has unique needs and expectations when it comes to its online presence. Understanding these nuances is the cornerstone of creating a website that effectively communicates a brand's message and engages its specific audience.
An accomplished web design agency has a proven track record in diverse sectors. They bring this wealth of experience to each new project, applying lessons learned from past projects and adapting strategies to cater to the specific industry's needs. This cross-industry expertise enables them to design websites that not only look great but also deliver a tailored user experience that resonates with the target audience.
5. An Impressive Portfolio
The fifth secret of a successful website design company is its portfolio. An impressive portfolio showcases the company's ability to deliver quality work and gives potential clients an idea of what they can expect. The best website design company's portfolio will include a wide range of projects that demonstrate their versatility and skills.
When viewing a company's portfolio, look for diversity in design style, industries served, and project complexity. Notice how the company has tackled different challenges, achieved client objectives, and how their websites perform in real-time. Remember, a good design isn't just about aesthetics—it should also provide a user-friendly experience and meet the website's intended purpose.
6. Mastery Over Conversion-centric Design
An often overlooked secret behind any top website design company is their emphasis on conversion-centric design. It's not enough to have a visually appealing website; a successful website is one that drives conversions.
The best web design company understands the principles of conversion rate optimization (CRO). They know how to place call-to-action buttons strategically, how to design forms that users will want to fill out, and how to create content that engages and compels the audience to take action. The use of color psychology, layout techniques, and understanding user behavior all play a crucial role in crafting a website that not only draws visitors in but also guides them toward conversion.
7. Emphasis On Website Performance And Security
In the digital world, website performance and security are paramount. The seventh secret behind a successful website design company is its focus on these aspects. They understand that a slow-loading website can frustrate users and potentially drive them away, while security breaches can lead to a loss of trust and severe reputational damage.
Proficient website design services prioritize loading speed, mobile responsiveness, and website security. They ensure your website is designed with performance in mind, using optimized images, efficient coding, and reliable hosting services. They also take steps to secure your website from cyber threats, incorporating SSL certificates, secure coding practices, and regular updates and backups.
8. Effective Project Management
The eighth secret is effective project management. A top website design company knows how to manage projects efficiently to deliver results on time and within budget. They have clear processes in place for communication, collaboration, problem-solving, and quality assurance.
Effective project management also means setting realistic timelines, defining clear objectives, and managing resources efficiently. It involves regular communication with clients about progress, potential issues, and changes in the project. A company with strong project management skills ensures a smooth process from start to finish, leading to a final product that meets or exceeds client expectations.
9. Exceptional Customer Service
Last but certainly not least, exceptional customer service is a secret ingredient in the success recipe of a top website design company. They go above and beyond to meet their client's needs, providing clear communication, responsive service, and a dedication to client satisfaction.
The best website design company values long-term relationships with its clients. They provide ongoing support even after the project is completed, assisting with updates, maintenance, and any potential issues that may arise. They consider their client's success as their own, ensuring they do everything in their power to make that success a reality.
Key Messages to Remember!
In the world of digitalization, the importance of an engaging and efficient website cannot be overstated. It serves as the first point of contact for many potential customers and plays a crucial role in shaping their perceptions of your brand. To create a website that truly reflects your business, resonates with your target audience, and drives growth, it's imperative to hire a website design company that possesses the key qualities we've highlighted.
In the quest for the perfect digital partner, armed with these insights, you're now better equipped to distinguish a good website design company. Choose wisely because the success of your online presence significantly depends on this vital decision.