By Seo Results Pro on June, 2023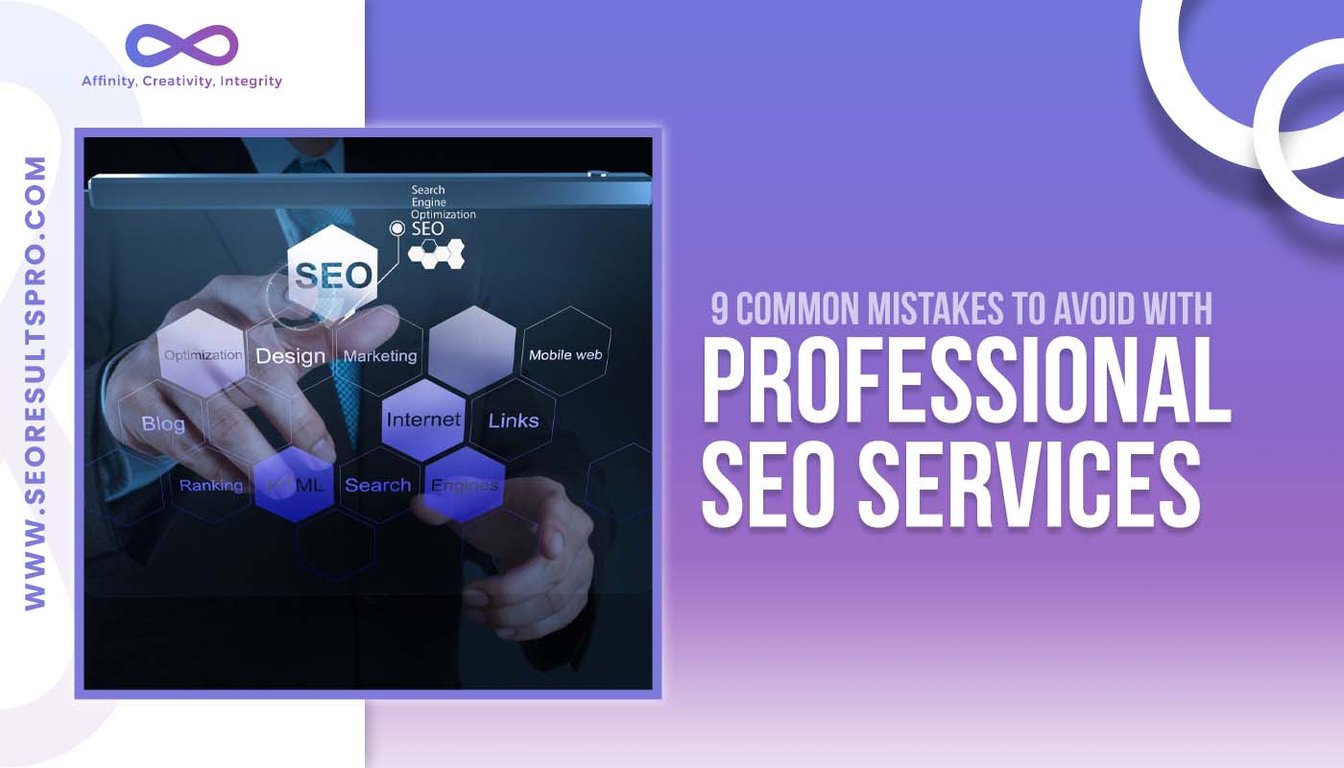 Search Engine Optimization (SEO) is a cornerstone for businesses looking to establish a strong online presence. From small start-ups to established enterprises, the need for high-quality SEO cannot be overstated. Businesses frequently invest in the professional SEO services to rank higher in search engine results, thereby attracting more organic traffic to their websites. However, the road to SEO success is rife with potential mistakes that can not only hinder your performance but also penalize your site in search rankings.
1. Overlooking the Importance of Research
One common error made by companies is not investing enough time and effort into keyword and market research. Many think they already know the words their potential customers are typing into the search bar. However, without rigorous research, this is often based on assumption rather than data. Firms that offer professional SEO services make it a point to initiate exhaustive keyword research as part of their initial strategy. It's also critical to understand your audience's behavior and how they search online, taking into consideration the various complexities of language, location, and user intent.
2. Ignoring Local SEO
In the rush to conquer global markets, companies sometimes overlook the importance of local SEO. This is especially important for brick-and-mortar businesses or services that target local areas. A well-crafted local SEO strategy can help you rank higher in geographically relevant search engine results, thereby reaching your local customer base more effectively. Professional SEO services often include local SEO as part of their package, which enables you to reap the benefits without breaking the bank.
3. Inadequate Quality of Content
Content is king. This truism holds especially well when it comes to SEO. The mistake many businesses make is skimping on the quality of the content they produce. Google's algorithms are ever-improving and can easily distinguish between high and low-quality content. Poorly written, duplicated, or uninformative content can hurt your SEO efforts more than most businesses realize. When you hire professional SEO services, make sure they prioritize creating content that is relevant, informative, and valuable to your target audience.
4. Improper Use of Meta Descriptions and Title Tags
Meta descriptions and title tags play a significant role in SEO. They are among the first things that a potential customer sees in search engine results. Yet, it's common for businesses to neglect this aspect, either leaving them blank or using them ineffectively. Top SEO services focus on creating compelling meta descriptions and optimizing title tags to ensure they are reflective of the content, contain targeted keywords, and are engaging for the reader.
5. Overlooking Mobile Optimization
With the increasing shift towards mobile browsing, ignoring mobile optimization is akin to leaving money on the table. Websites that aren't mobile-friendly can experience higher bounce rates and lower conversion rates, leading to poor performance in search engine rankings. Professional SEO services should provide mobile optimization as a standard feature.
6. Focusing Solely on Link Quantity
Link building is a significant aspect of SEO, but focusing merely on the number of inbound links can be counterproductive. It's essential to pay attention to the quality of the links as well. Google's algorithms can differentiate between low-quality spam links and high-quality authoritative links. Investing in the best SEO services should involve a comprehensive link-building strategy that focuses on quality over quantity.
7. Over-optimization and Keyword Stuffing
Another common mistake is over-optimizing your website, also known as "keyword stuffing." While it may seem logical to saturate your website's content with keywords, this approach can backfire. Search engines are designed to prioritize the user experience, and they view over-optimization as a tactic that detracts from it. Consequently, your site could be penalized and drop in rankings. Professional SEO services avoid this tactic, focusing instead on a more balanced and organic use of keywords throughout your site.
8. Lack of Regular Updates and Monitoring
SEO is not a one-time effort but a continual process that requires regular updates and monitoring. Search engine algorithms are continuously evolving, and staying stagnant could mean falling behind. Therefore, it's vital to hire professional SEO services that offer ongoing support and make regular adjustments based on performance metrics and analytics.
9. Selecting the Wrong SEO Service Provider
Perhaps one of the biggest mistakes is choosing the wrong SEO service provider. Not all SEO services are created equal. While some offer comprehensive solutions that cover all aspects of SEO, others might only focus on specific elements, such as link building or keyword optimization. It's crucial to select a provider that not only fits your budget but also aligns with your business objectives. Keep an eye out for professional SEO services that offer a tailored approach, adapting their strategies to meet the unique requirements of your business.
Final Thoughts!
While the allure of higher search engine rankings draws many businesses to invest in professional SEO services, common mistakes can prevent these investments from yielding the desired outcomes. By understanding these pitfalls and ensuring that the SEO service you hire avoids them, you are better positioned to make the most of your investment.
The landscape of SEO can be confusing, and one small misstep can significantly impact your website's performance. From selecting irrelevant keywords to poor backlinking strategies, the room for error is vast. But here's the silver lining: You don't have to go it alone. SEO Results Pro is the trusted partner you've been searching for to guide you through the maze of SEO intricacies. Our team of SEO experts specializes in deploying proven, white-hat SEO techniques that not only boost your search engine ranking but also enhance user experience and engagement.
Over the years, we have successfully turned around struggling websites and fortified those that are already performing well. If you're committed to avoiding common SEO mistakes and taking your website to the next level, SEO Results Pro offers various packages tailored to fit the unique needs of businesses, both big and small. Don't leave your SEO to chance or entrust it to less-than-qualified agencies. Choose SEO Results Pro for a comprehensive, analytics-driven approach that consistently delivers the results you've been striving for.